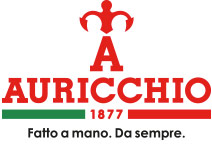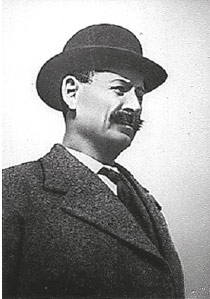 Auricchio - Made by Hand. Tradition and Quality.
Its unique and unmistakable taste comes from the 'secret recipe' that Gennaro Auricchio invented way back in 1877.
The most important phase of the production, the shaping, is (really) made by hand by expert cheesemakers.
For more than 135 years, traditions have been handed down from father to son. Auricchio's jealously protected secret rennet formula, the care it takes in choosing the right people to make cheese, and its passion combined with experience and technology are the ingredients needed to make products of superb quality. In more than a century of history it has become a truly international celebrity, positioning itself as worldwide market leader of provolone.
Auricchio Provolone has always been made in the same way since 1877
The quality control cycle starts from the very beginning when the dairy cows are chosen. Auricchio works with farms that have carefully selected special breeds. Auricchio technicians then suggest to the farmers the type of animal feed to use to obtain the best milk for processing. After strict tests certify its suitability, milk is processed according to the highest standards of hygiene.
Auricchio Provolone is an artisan product that, for the most part, is still worked by hand.
Over a century of experience and a respect for tradition has been skillfully integrated into the modern Quality Management
System that is certified according to the UNI EN ISO 9001:2008 standard.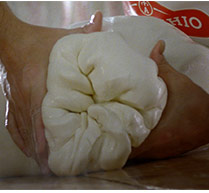 TIMELINE
AURICCHIO BRAND.
The name 'AURICCHIO®' and the 'A' with the anchor appear on all of the company's provolone varieties: Classico, Dolce, Giovane, Stravecchio and Affumicato.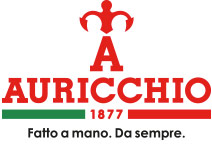 CECCARDI BRAND.
'Riserva Esclusiva Auricchio®' is the seal guaranteeing quality and tradition that is found on all AURICCHIO cheeses (except its provolone) made of cow's milk, sheep's milk or a blend of both. These products include: Parmigiano Reggiano; Grana Padano; Asiago; Ancoretto®, the cow's milk cheese that is perfect for grating; Auretta®, Novella®, Saracino®, and Caciotta del Pirata® caciottas; Pecorino Romano; Pecorino Moliterno; Pecorino Bucaro® Calcagno, with or without pepper; Sirbone® Foggiano e Crotonese, Fresh Ricotta and Ricotta Salata Sardis®.

LOCATELLI BRAND.
Auricchio owns the 'Locatelli' brand exclusively for distribution in the United States from 1996. In particular, Pecorino Romano Locatelli® is its most famous product in the Premium Price range for modern distribution channels in the U.S. This product, a market leader whose outstanding quality sets it apart from the competition, is excellent not only for grating, but also as a table cheese.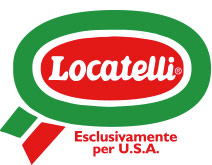 GLORIA BRAND.
Acquired in 2001, the 'Gloria®' brand once belonged to an historic Sicilian company whose production unit in Sardinia specialised in superb fresh and aged pecorino cheeses. Well-known in Italy and abroad, the Gloria® brand completes the range of pecorino cheeses, a market in which Auricchio aims to establish itself through a long-term diversification strategy.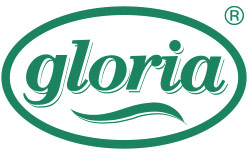 COLOMBO BRAND.
GIOVANNI COLOMBO® is the brand that has most recently been acquired by Auricchio in 2012. Its origins date back to the early twentieth century when it was found by Pietro Colombo who, gathering the experience of his father Giovanni, produced and matured one of the most typical of our traditional cheeses: Gorgonzola. The selection of top ingredients, and a constant search for improved quality, led him to discover CREMIFICATO, the Gorgonzola par excellence, enjoyed first of all in Italy and later in Europe and overseas. The Colombo brand is still today, after almost a century, synonymous with quality and naturalness. In fact, using the latest technology which guarantees hygiene, functionality and increasing potential, it brings the consumer a range of top quality products that are both traditional and continually updated.